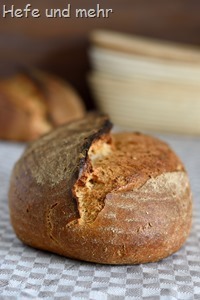 Sometimes the spontaneously created breads are the best. Breads that base on the actual stock in the ktichen cupboards can turn out to be new favourites, just like this potato rolls. And this caraway seed bread follows this route.
After refreshing my differnt starters I had some leftovers that needed to be used. And as I planed to visit my uncles birthday party later this day  I decided to bake a bread that would make him happy: Caraway Seed bread.
Due to the refreshed starters I used a spelt sourdough and some rye flour in the main dough, which yields a mild flavoured bread. If you prefer a more sour bread you can swap rye with spelt  but I'm like the mild variant very much. The sweet starter adds some complex flavour notes and a good oven spring, too.
I baked the bread on higher temperature then normal as the bread was heated to 300°C for another recipe. This yields a thick and crisp crust and the good browned crust adds deep flavour notes.
Sadly I missed my "oven cinema" whole I had to cleaned the kitchen flour as I accidently knocked over some eggs when placing the loaves in the oven (don't ask how this could happen – I don't know). But even without observing eye (or just because of it?) the oven spring was strong and the bread "sang" when I placed it on the cooling rack after baking. The crumb turned out as soft and fluffy as the outside promised while the crust is crisp and stays so for days! A dream of a bread for caraway lovers!
Caraway seed bread
yields 2 Breads
Sourdough
84g Sweet Starter
84g flour Type 550
42g Water
Dough
Sourdough
Sweet Starter
200g Whole rye flour
600g flour Type 550
530g Water
30g Butter
30g caraway seed
20g Salt
20g Malt
15g fresh yeast
Mix water, flour and starter for the sourdough and ferment for about 12 -16 hours at 25°C.
For the sweet starter, Mix all ingredients for the feeding and  ferment for 2-4 hours at 30°C. Store in the fridge until the next morning.
The next morning knead all ingredients 5 min at the slowest speed and 8 min at higher speed until medium gluten development.
Let rise for 1.5 hours.
Divide the dough into two parts. Form to long loaves  and place in the proofing basket seam side up.
Proof for 1 hour, heat the baking stone at 300°C in the meantime.
Prior to baking, slash the loaves lengthwise and place the breads in the oven with steam. Turn the temperature back to 200°C after 10 min and bake the bread for another  40 min .