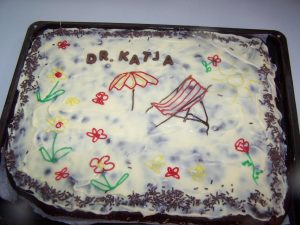 Another collegue finished her PhD thesis, and today was the great day of her disputation. It is a custom at our university that the new Doctor get a selfmade Doctor-hat, a Doctor-wagon and a Doctor-cake. So I was asked if I could bring a cake, a question I will always answer with yes 😉
For the last two disputations I do Schweizer Rüblikuchen, something that is very delicious, but I thought it would be not very creativ to bake it a third time. Filing through my recipes at Chefkoch.de I found a recipe for Brownies.
Containing a lot of sugar and cacao you get nearly a sugar-shock when you eat more than a tiny bite, so it is really perfect for my lab mates 😉
The Recipe is very easy, so its perfect, if you come home from work late in the evening (like me in the last weeks). The decorations I did this mornig at work together with a collegue.
Brownies
500g Butter
500g sugar
8 Eggs
200 g cacao
250g flour
1 EL (selfmade) Vanillasugar
1 Prise Salt
200g chopped almonds
Cream the eggs with sugar and vanilla sugar. In the meantime melt the butter. Add the melted butter to eggs and stir for another minute.
Combine flour, cacao and salt and add it to the batter, then add the almonds to the mixture. Strike the batter on a greased baking tray and bake it ad 180°C for 25 min.
[tab:END]