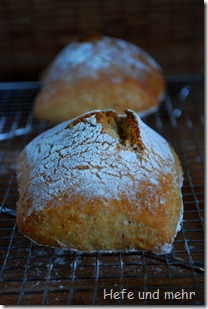 I love bread with potatos, a love I share with Zorra form 1x umrühren bitte. Last year I baked three diffrent breads with potatos:
Kartoffel-Bagel-Stars, whole wheat potato bread and Bauernbrötchen after a recipe of Bäcker Süpke. But this year I did not bake a potato bread untill now.
The inspriation for my potato rolls are the potato rolls which one of colleagues likes to buy for breakfast or lunch break. The bakery which made this rolls closed last week because to many students like to buy their bread in the terrible self-service "bakery" next door. So I tried to recreate the rolls.
I used a mixture of whole wheat and all-purpose flour and made square rolls.
The square shape is easy to create: I flatten the dough and cut it in squares with a dough scraper.
I serve this delicious rolls like this mushroom quiche at my birthday brunch.
Potato rolls
Pâte fermentée
125 g flour Type 550
85g water
1 g fresh yeast
2,5g Salt
Teig
200g Pâte Fermentée
125g boiled potatos
250g wheat, fresh milled
125g flour(Type 550)
200g water
5g fresh yeast
10g salt
Mix all ingredients for the Pâte fermente and proof it for 2 hour at room temperature. Then put the dough into the fridge for 12 hours.
The next mornig: Cook the potatos, mash it and let cool. Mix all incredients for the dough and knead it for about 3 min at low speed, then 6 min on high speed untill medium gluten development.
Flatten the dough a little bit and cut it into squares (about 80g each). Place them on paper lined baking trays.
Proof for 1 hour.
In the meantime preheat the breadbaking stone to 250°C.
Bake the rolls on the stone 20 min with steam.