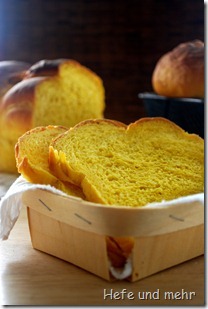 I have the feeling that autumn is already knocking timidly on my door. I knew that it is still august, in theory it is still midsummer, but after all the rainy days in the past weeks and with the fact that the days already started to get shorter I feel a little bit like autumn. Don't understand me wrong, I cherish the change of season. It is like George de Santayana says:  "To be interested in the changing seasons is . . . a happier state of mind than to be hopelessly in love with spring." And I love the change from summer to autumn – maybe because I was born in this special atmosphere between theses seasons in September 29 years ago.
When my mom asked me if I would like to take the second half of a butternut squash I had directly the idea of putting the squash in a bread dough. I like butternut squash very much, it sweet and creamy taste and the stunning colour makes it to one of my favourite winter squash.
I used my new favourite sandwich bread recipe as a basis for this recipe. I replace the liquid in the recipe with butternut squash puree and removed the water roux from the formula. The puree keeps the bread moist enough.
I have to say that I am still stunned from the extremly soft crumb of this bread. It is as light as feather and you can tear the crump in long fibers. It's sad that I'm not able to show the softness in the picture. The colour of the bread is such a bright and warm yellow its like having the sun on my table.
It tastes great either toasted or not toasted as a sandwich or for breakfast. I think, it will be THE bread of autumn for me.
Butternut Squash Sandwich Bread
Sourdough
150g water
150g flour Type 550
15g Starter
90g flour Type 550
65g water
1g fresh yeast
2g Salt
Dough
800g flour type 550
600g butternut squash puree
120g egg white (of 3 big eggs)
50g sugar
100g Butter
50g Gluten
20g Salt
5g fresh yeast
Mix all ingredients for the sourdough and ferment overnight (12 to 16 hours) on a warm place (about 25°C).
Mix all ingredients for the Pâte fermentée and knead for 3 min, then ferment it for 1 hour at room temperature. Then put the dough into the fridge for  at least 12 hours.
Crumble the yeast in a bowl, then add butternut squash puree, flour, egg white, water roux, Pâte fermentée and sourdough and knead 5 min at slowest speed, then around 11 min on fast speed until complete gluten development. Now add sugar and butter and knead for about 2 min until butter and sugar are complete incooperated.
Ferment for 3 hours.
Degas the dough and 8 parts of about 250g each.Form them to balls and let them Rest for 20 min. Roll each Ball into a long thin oval. Fold the long sides into the middle to form an rectangle. From the short roll tightly  to a log. Now roll it again along the seam to an long, thin oval, fold the long sides into the middle and roll again tightly to a log. The log should be as long as the baking pan is wide. Place four logs in a buttered pan (30 cm long) proof for 4 hour.
Bake with steam at 175°C for about 50min.
I sent this entry to Yeastspotting, Susans weekly showcase of yeast baked good.