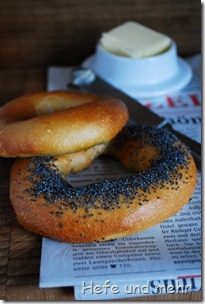 There is not always space in my fridge for trays with rolls. Ok, to be honest there is nearly never room for a tray in my fridge. Even when I put two proofing baskets in the fridge I have to be creative. Normally I start to stack things on each other to make room for the baskets. And when my boyfriend wants to eat some cheese in the night? Then it's time for Jenga! 😉
That's why I like recipes which I can keep overnight at room temperature . And since I bake the saffron stars I knew that I can even proof rolls overnight at room temperature as long as I use a really small amount yeast. So 1 g fresh yeast in the bagel recipe is no mistake. To improve the taste I also add a little bit sourdough. I did not dare to use a higher amount of sourdough, being afraid that the long and relatively warm fermentation  would turn the dough into sourdough.
But with the small amount it worked very well and the next morning I just had to place the bagels in boiling water and bake them. That's only 30 min in the morning till we had fresh bagels for breakfast.
Bagel
yields 10 Bagel
500g Flour Type 550
260g Water
1g fresh yeast
20g sourdough starter
30g Butter
10g Salt
20g Honeys
Knead all ingredients for 5 min at slow speed and another 8 min at high speed until medium gluten development.
Ferment for 1 hour at room temperature.
Divide the dough into 80g pieces and form them to rings.
Proof them overnight at room temperature (about 10 hours)
The next morning cook them for 30 sec each side in boiling water.
Place the bagel on a baking sheet and sprinkle them with poppy seeds.
Bake them at 250°C for 15 min.
I send this to yeastspotting, Susans weekly showcase of yeast baked good.