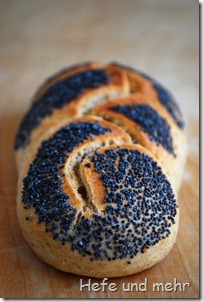 Once again a recipe for rolls – but that is the last new recipe I created during our holidays (and I am already back at work for one week).
I was dreaming of poppy seed rolls, and so I grabbed a bag of poppy seeds in the supermarket. I decided to play a little bit with the dough and made not simple rolls but little braids. They are braided with only one strand, a technique I saw in a TV show some month ago. I just forgot which show it was… But I make photos from each step, to make it easier to understand the technique.
I bake the little poppy seed braids with whole wheat flour and white spelt flour and added some lievito madre for a good oven spring and a complex taste. I have to say, I love my new starter. It adds a nice aroma to bread and it is very convenient that it can be used right out of the fridge. Perfect for baking spontaneously.
Little poppy seed braids
yields 10 rolls
100g Lievito madre
290g spelt flour Type 630
150g wheat, freshly milled (or whole wheat flour)
280g Water
40g Butter
10g Salt
10g fresh yeast
Topping
Dissolve the yeast in the water and knead for 5 min. Let the dough rise for 30 min, then fold the dough from the sites of the bowl into the middle. Let the dough rise for another 30 min.
Now divide the dough into pieces of 85g each. Roll them into strands of about 45 cm. Now form with 2/3 of the strand loop, while the other 1/3 of the strand remains free. Pull the free strand through the loop, then twist the loop and tuck the free end into the remaining opening of the loop (See here).
Wet the sourface of the braids with some water and dip them into Poppy seeds.
Proof for 40 min.
Preheat the baking stone to 225°C.
Bake at 225°C for 25 min with steam.
I sent this entry to Yeastspotting, Susans weekly showcase of yeast baked good.