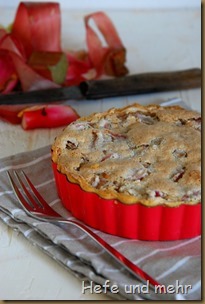 After visiting my parents garden we came home carrying an arm full of tender rhurbarb. And because we can not always eat oven roasted rhubarb I decided to use one half for a cake – while I roasted the other half in the oven (I can not get enough of oven roasted rhubarb).
The cake is a variation of my grandmothers "Ribiselkuchen" (Ribisel is dialect for Johannisbeere (red currants)). It is made of a shortcrust pastry and a filling made of whipped egg white, sugar, almonds and rhubarb slices. It is a classical and good mixture, a balanced mixture of sweet and sour, soft and crisp, just the perfect, delicious cake for Sunday afternoons.
Rhubarb Cake
Dough
200g flour Type 405
2 egg yolks (from Eggs size L)
75g sugar
125g Butter
Filling
500g Rhubarb
3 Egg whites(from Eggs size  L)
120g sugar
1 Prise Salt
50g dried bread crumbs
50g grounded almonds
Mix Butter with sugar and egg white, then add flour and salt and knead shortly until homogenous. Place in the fridge for 30 min. Now roll thinly and line four tarte forms (Diameter 12 cm)
For the Filling wash and slice the rhubarb. Then whip egg whites until soft peaks, then add sugar and salt and continue whipping until the sugar is completely dissolved. Fold in bread crumbs, gounded almonds and rhubarb.
Bake at 200°C for about 30 min.