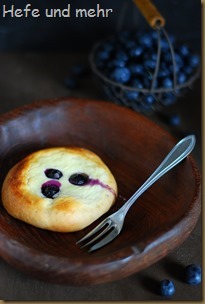 It's berry season! After we spent the last weeks with cooking red currant, raspberry and strawberry jam we turned our attention to the blueberries. Beside of cooking jam I set some aside to use them for a little weekend treat. Together with some quark I baked quark blueberry pastries.
For the dough I used my sweet starter which was just freshly feed. But like for this Sonntagszopf you can use Lievito madre or a biga instead. What ever you choose as a preferment, it will be delicious!
Quark Blueberry Pastry
yields 15 pastries
Dough
Sweet Starter
340g flour Type 550
100g cream
55g Water
60g sugar
60g Butter
60g Egg (1 Egg Size M)
5g fresh yeast
4g Salt
1/4 Vanilla bean
2g cardamom, freshly grounded
Filling
1 Egg (Size L)
200g Quark
35g sugar
15g Starch
65g Crème fraîche
150g blueberries
Mix the ingredients of the sweet starter and let it rise for 4 hours at 30°C.
Knead all ingredients except sugar and butter for 5 min at slow speed. Then knead 7 min at fast speed. Now add the sugar in small increments and knead until the sugar is incooperated before adding the next sugar. At last add the butter all at once. Knead to full gluten development.
Mix the ingredients of the cheesecake filling  until homogenous.
Divide the dough into pieces of 60g. Shape into balls, then let them relax for 10 min. Flatten into disks with a thin middle and a thicker rim.
Place a tablespoon of the filling in each pastry and top with some blueberries.
Proof for 1 hour.
Bake at 175°C for 20 min with steam.
I sent this entry to Yeastspotting, Susans weekly showcase of yeast baked good.