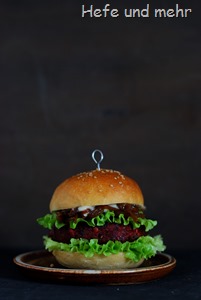 Finally I found it: my perfect vegetarian Burger patty. It is a Aubergine, Beetroot and Champignon mushroom patty which is hold together by chickpeas, rolled oat and buckwheat flour. And this means the patty is not only vegetarian, it is vegan. And it is easily made gluten free by exchanging the rolled oats with rolled millet. An important point for a good binding is to use soaked, uncooked chickpeas and not canned one!
For the mixture of vegetables I tested already different compositions. Already my last try contained mushrooms and beet, and the idea to use aubergine was spontaneously but good. The aubergine adds a good texture to the patty while mushrooms and beet add a deep, earthy flavour which goes well with the hint of smokiness due to the pimenton de la vera. And finally I'm happy with the consistency as well as they have a juicyness without being soft. The patty stays well together while eating and is not mashed like the previous versions.
Together with homemade burger buns (see below or here (vegan) or here), some lettuce, caramelized onion and sauce it is a fantastic burger!
ABC-Burger Patties
yields 4 Burger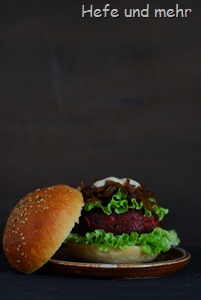 Patties
100g chick peas
200g Aubergine (1 small Aubergine)
200g Champignon mushrooms
75g red beetroot
25g fine rolled oats
50g whole buckwheat flour
Salt
Pimenton de la vera
Soak the chick peas in cold water for at least 4 hours.
Cube the Aubergine and Mushrooms (1 cm length) and roast them in a pan until tender. Let them cool, drain the chickpeas and run them through a mincing machine. Finely grate the beetroot, add the rolled oats, flour and spieces and kneat until well combined.
Let the mixture soak for 1 hour.
Now form 4 patties and fry them in the pan at medium heat until crisp and brown.
Burger buns with sweet Starter
yields 10 Buns
Swet Starter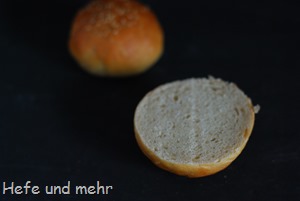 Dough
Sweet Starter
50g Rye flour Type 1150
370g flour Type 550
50g Oil
200g Milk
25g sugar
25g Butter
55g Egg (1 Egg size M)
10g fresh yeast
10g Salt
5g Malt
Mix the ingredients of the sweet starter and let it rise for 4 hours at 30°C.
Knead all ingredients except butter for 5 min at slow speed. Then knead 7 min at fast speed. Now add  the butter all at once and knead to full gluten development.
Let rise for one hour temperature plus 1-2 hours in the fridge
Divide into 80g pieces and form to round buns. Place on a paper lined baking tray, wet their surface and sprinkle with sesame.
Cover and proof for 1.5 hour.
In the meantime heat the oven to 250°C.
Bake at 250°C for 20 min with steam.