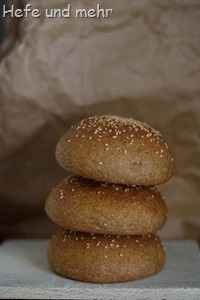 There is one advantage of recipes which are troublesome in the development: the other good recipes you find on the way. A recipe which development was extremly troublesome is the spelt & emmer sandwich bread I needed for my "Vergessene Getreideschätze" course. It took me over a year until I got the bread just as I wanted it to be. But as I was testing different methodes and the influence of ingredients, I got a lot of good recipes during this tests: Sandwich bread with Emmer, Spelt-Sandwich bread, Spelt-Emmer-Sandwich bread und spelt brioche. And this whole grain Spelt & Emmer Burger Buns are from this series, too.
If you plan to bake fluffy whole grain bread with ancient grains, enhancing the gluten network is the point which needs the most attention. Adding Vitamin C – for example in form of rose hip powder – helps here very much. Another possibility is the use of enzyme active bean flour. Original used in France for baguette baking, I made the experience that it helps enhancing the weak gluten network of emmer or einkorn dough, too.  And so I choose it for this recipe. To further enhance the dough formation, all of the emmer flour ist added into the poolish, so it has a lot of time to soak. And when the dough is kneaded with a careful eye on the gluten development, then baking delious whole grain burger buns is easy!
Spelt & Emmer Burger Buns
yields 10 rolls
Emmer-Poolish
Dough
Emmer-Poolish
350g whole spelt flour
200g Water
50g Egg (1 Egg size M)
10g Salzt
9g fresh yeast
4g Enzyme active bean flour (optional)
4g Physillium hulls
4g enzyme active  Malt
85g Butter
Topping
Mix the ingredients for the poolish and ferment for 12-14 hourrs.
For the dough, knead all ingredients except butter for 4 min at slow speed. Now add  the butter all at once and knead to full gluten development (2-3 min)
Let rise for one 2 hours.
Divide into 100g pieces and form to buns and press them down. Place on a baking tray, wet their surface and sprinkle with sesame.
Proof for 1.5 hour.
In the meantime heat the oven to 230°C.
Bake at 250°C for 16-18 min with steam.