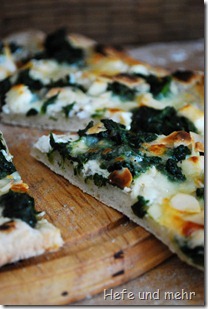 At the blog Baking Banter of King Arthur Flour MaryJane Robbins posted a recipe for a white Pizza, with no tomatoes at all. Instead of Tomato sauce the pizza is spread with ricotta and topped with spinach, feta, garlic and mozzarella. And then I saw on Susans blog her great farmer market pizza and my wish to try a white pizza increased.
And Pizza is always loved in this house so my question if we should bake this kind of pizza for lunch was positively answered. For the crust I played once more with this recipe. I like it because I can use the remaining dough to make a great bread, too. I added a Pâte fermentée to the recipe to make the crust even more tastefully, and used only wheat flour instead of mixing spelt flour and wheat flour.
For the topping I used the things mentioned in the recipe on Baking Banter and was rewarded with a delicious pizza.
I am sure that white pizza will appear now more regulary on our table.
White Spinach Pizza
yields 8 Pizzas or 2 Pizzas and a bread
Sourdough
150g flour Type 550
150g water
15g sourdough starter
Poolish
150g flour Type 550
150g water
1g fresh yeast
Pâte fermentée
150g flour Type 550
105g water
1g fresh yeast
2g Salt
Dough
all of the sourdough
all of the Poolish
all of the Pâte fermentée
500g flour Type 550
200g water
50g olive oil
5g fresh yeast
16g Salt
Topping for one Pizza:
50g Ricotta
30g Feta
50g Mozzarella
100g Spinach
1 garlic clove
Salt
Pepper
Thyme
Oregano
some almond slices
Mix Poolish and sourdough and ferment for 12 hours at 25°C.
Mix all ingredients for the Pâte fermentée and knead for 3 min, then ferment it for 1 hour at room temperature. Then put the dough into the fridge for  at least 12 hours.
The next morning: Mix all ingredients  until it is homogeneous (around 1 min). Let rest for 45 min(Autolysis).
After Autolysis: Knead the dough for 2 min on slow speed and another 4 min on high speed.
Now place the dough in a good oiled container and ferment for 2,5 hours.
Blanche the spinach, let cool down and squeeze out the excess liquid. Season ricotta with pepper, thyme, salt and oregano. Slice garlic thinly and cut mozzarella and feta into slices or cubes.
Divide the dough into two pieces of 200g for the pizza, use the remaining dough to make a bread.
For the pizza: Roll the dough out discs of 30 cm diameter and spread with ricotta , and top the ricotta with spinach, garlic, cheese and some almond slices.
Bake 4 min at 450°C (or about 10 min at 250°C).
For the bread: Preshape into a square. Rest for 20 min. Then form in a bread and proof in a brotform for 60 min.
In the meantime heat baking stone in the oven to 250°C.
Slash two times and bake the loaves on the hot stone for 45 min with steam, until the crust is golden brown.