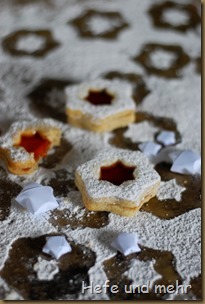 There are three recipes I bake each year for christmas: Vanillekipferl (with or without almonds), Liebesgrübchen and Linzer Ringe. These are family recipes, and a christmas "must have".
But each year I have to bake some new recipes as well. And one of the recipes I tried this year are these quince stars. When I made my traditional Linzer Ringe recipe I had the Idea of a cookie made with a quince fillung and some grounded almonds and a little bit of tonka bean in the dough. I use the tonka beans always carefully because while they taste delicious, their aroma is a strong one, too.
I like my spontaneous recipe vey much, the combination of almond, quince and tonka bean fits very well!
Quince stars with Tonka bean
Dough
100g ground almonds,
150g flour Type 405
70g sugar
125g Butter
1 Egg size L
1 Tsp. Baking powder
1 Prise Salt
1/4 Tonka bean
Filling
Topping
Knead the ingredients for the dough shortly until combined and cool in the fridge for hour. Roll out thinly and cut star shaped cookies, half of them as rings.
Bake at 180°C for 10 min.
Let the stars and star shaped rings  cool down. In the meantime melt the quince jelly. Sprinkle the rings with powdered sugar. Spread the stars with quince jelly, then place a ring on top and fill the hole with jelly.