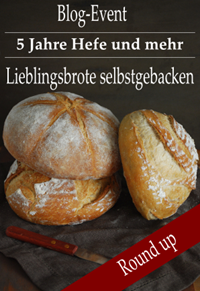 Where has the last weeks gone? Now it is already December, the christmas lights in the streets are shining (we have beautiful christmas lights in angel form, fitting the name of our town "Engelskirchen" which means Angels Church) and the flavour of Christmas cookies fill the air! But before the blog goes into Christmas mode finally I would like to show you the beautiful favourite breads you send to me for my little blog event!
I was so happy that you shared your recipes with me!
But now take a look at this great breads:
And now you want to know who wins the books and the advent calender? I listed the entries in order of their submission and then used random.org to draw three numbers.

That means: one Baking book goes to Melanie from Mangoseele  and and one toSusanne from Magentratzerl and the Advent calender geht goes to Sven from Der Brotbub. Congratulations 😀