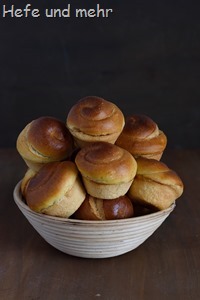 I met Honigreingerl some time ago and they trigger my "Have to bake" reflex of immediately.  They are small Austrian pastries which are filled with a honey and cinnamon mixture. In their crumb you can find many small openings filled with the flavour of honey and cinnamon.
Original the Honigreingerl are baked in a slightly higher form, but using a muffin tin and brioche forms work good as well. The dough is made with ten percent spelt flour like I used it in the Butterzopf recipe, as this makes rolling the dough easier. The other components of the dough are the "usual suspects": Biga, some egg and butter – a guaranty for a fluffy crumb and good flavour. And so are my homemade Honigreingerl: a golden crust and a very fluffy crumb filled with the flavours of honey and cinnamon – a divine treat!
Honigreingerl
ergibt 16 Reingerl
Biga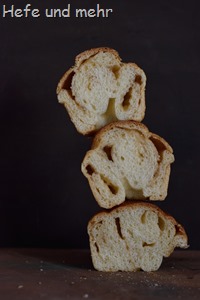 100g flour Type 550
50g Water
1g fresh yeast
Dough
Biga
350g flour Type 550
50g spel t flour Type 630
200g Milk
55g Egg (1 Egg size M)
10g fres yeast
7g Salt
50g sugar
100g Butter
Fillíng
50g soft Butter
125g creamy Honey
5g cinnamon
Glazing
Mix all ingredients for the Biga and let ferment in the fridge for 16 hours.
Knead all ingredients for the dough except sugar and butter for 5 min at slow speed, then knead 7 min at fast speed. At last add sugar and butter all at once and knead until the butter is complexly incooperated.
Let the dough rise for one hour.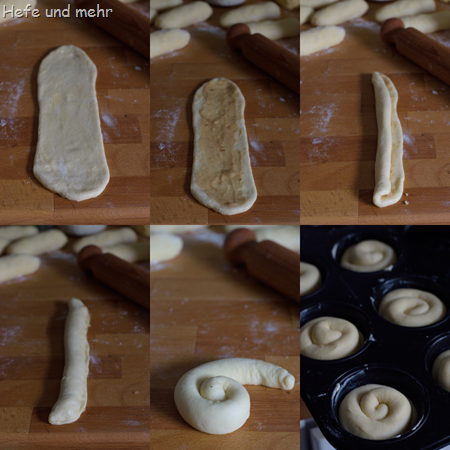 Divide the dough into 60g pieces and preshape them into logs . Let them rest for 10 min, then roll them with a rolling pin into a oval of 20 cm length. Spread with a teaspoon filling, roll them from the long side into a log and press the seam down very well to seal the filling inside. Now roll the log into a spiral and place in it in the buttered muffin tin or  brioche form.
Proof for 90 min.
Now glaze with beaten egg and bake at 200°C for 25 min with steam.