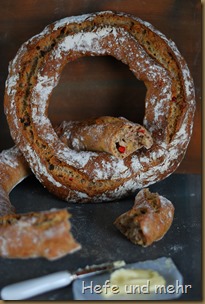 The last time I phoned my sister, she told me about a "Baguette" she ate in a cooking class some days ago. She liked the combination of hot pepper, walnuts and whole spelt flour, but the bread had a very thigh and doughy crumb. So I wrote down the recipe and promised to build a better recipe. For that I had to change nearly the whole recipe.
I take out the egg from the formula (no egg is needed in a baguette), but add a good deal more water but much less yeast. I reduced the amount of walnuts only a little bit for a better balance between bread and nut and added some chopped sweet red pepper for the good look. The amount of hot pepper should be adjusted by the personal taste, the amount of Habenero I used brings the recipe definitely to the hot side. If you want a milder version I would decrease the hot pepper and use more sweet pepper instead.
I kneaded the dough as I would knead a baguette dough and in the end I was rewarded with a soft but not sticky dough. It was easy to form some rings out of it. And after a propper fermenting and proofing time (something the original recipe omit) I was rewarded with a great aromatic bread. The Khorasan wheat, which I used instead of Spelt, gives a sweet nutty flavour to the dough which goes very well with walnuts and hot pepper. And the crumb is nicely open, especially when you consider the high amount of whole grain flour. A perfect bread to bring to a BBQ or to eat as a side with a summer salad!