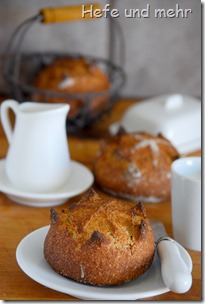 I got the Idea to bake this little Spelt crowns, when Lena asked me if she could bake the Yoghurt Honey Whole Wheat Bread as rolls instead of a loaf. Of course you can do this, was my answer and I started to think that I could bake something like that, too! But I decided to change the recipe a little bit, using spelt instead of wheat and buttermilk instead of yoghurt. To improve the dough handling, I cut down the amount of liquid a little bit and decided to let the dough rise overnight. As form for the rolls I tried something I was thinking about now for some time. I used my kitchen scissors to cut small tips on top of the roll which form a little crown during the oven spring. Just take care to keep the cuts short enough otherwise very long and hart tips will form during baking, and eating a roll with sharp edges is no fun at all. The rolls turn out very well: Soft crumb, crisp crust, a complex aroma due to long fermentation and the combination of spelt and sweet honey harmonize very well. A roll for a royal breakfast…
Spelt crowns
yielts about 11 rolls
500g spelt, freshly milled
200g Buttermilk
160g Water
40g honey
15g Butter
4g fresh yeast
10g Salt
Evening: Dissolve the yeast into the water and add the mixture to the other ingredients in a big bowl. Mix all ingredients for the dough, if not all of the flour can easily incorporate add another 20g milk. Let it rest for 30 min, then fold it from the outside of bowl into the middle for three or four times. Let rest for 30 min again, then fold the dough and repeat the resting and folding steps one time more.
Ferment the dough overnight (8 – 10 hours) at room temperature.
The next Morning: Heat the Baking stone to 225°C. Dived the dough in 85g and form into balls.
Proof for one hour. Cut a with scissors tips around the top of the rolls to form  a crown.
Bake at 225°C with steam, then release the steam from the oven and bake for another 5 min on convection mode. I sent this entry to Yeastspotting, Susans weekly showcase of yeast baked good.