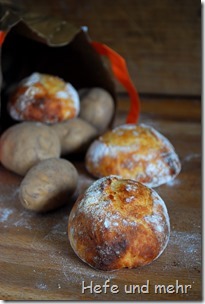 The television broadcast "Markt" featured a interesting report about potatoes, including a potato tasting. The tasting take place in the Restaurant of a colleagues spouse, and she and one of my other colleagues were part of the tasting, too. So watching TV last Monday was mandatory. The result of it did not suprise me so much: the imported potatoes from Egypt and Cyprus looked very good, but tasted – as my colleague Birgit stated – like putty while the local potatoes, grown in the Rhineland, was very flavourful.  I made this experience by my own, too and always try to buy potatoes from a local farmer.
To honour the potato I decided to bake some potato rolls. But my "Kartöffelchen" (little potatoes) should not only be called "little potatoes" they should look like a potato, too. And so they have a dark brown crust and a fluffy yellow crumb. But the soft dough is not so easy to form. If you would like to have a simpler shape, I would suggest to cut the dough  into squares like described Yoghurt Sesame Rolls.
Kartöffelchen
yields 8 rolls
180g starchy potatoes (boiled and mashed)
300g flour Type 550
180g Water
30g Butter
10g inactive malt extract or sugar
10g Salt
3g fresh yeast
Dissolve the yeast into the water and add the mixture to the other ingredients in a big bowl (about 5l). Mix all ingredients for the dough and let it rest for 30 min, then fold it from the outside of bowl into the middle for three or four times. Let rest for 30 min again, then fold the dough and repeat the resting and folding steps one time more. Ferment the dough overnight (8 – 10 hours) at room temperature.
The next morning: Heat the oven with the baking stone to 225°C. Divide the dough into pieces of about 85g each. Shape into rolls. Wet their surface and roll them into sesame or poppy seeds. If you like leave some of them plain.
Proof for 60 min.
Bake at 250°C for 15 min with steam. Open the oven door to release the steam and bake for another 5 min on convection mode to get a crispy crust.
I sent this entry to Yeastspotting, Susans weekly showcase of yeast baked good.