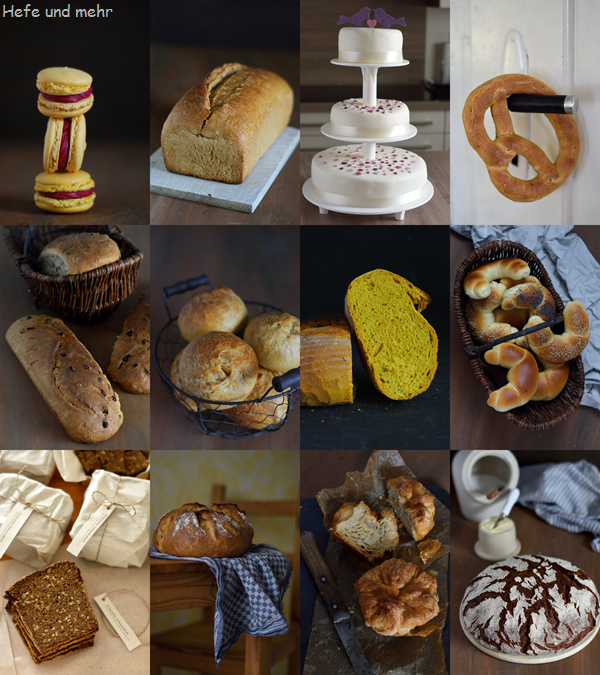 2016 – What a Year! Like every year I do not want to look back on  the crisis in the world but on what happened on the blog and in the kitchen. And here it was a good year. I met many new people on the Brotzeit-Markt in Berlin, at the Colgone black market  and in my Baking courses.
Not everything I baked in this year was published in the blog. I developed recipes for Burger rolls and pizza dough for the organic  bistro "Ludwig & Jean", for regional breads for the magazine Ö and for the newspapers  Kölner Stadtanzeiger and Kölner Rundschau. I published one of my recipes in Luisa Weiss  "Classic German Baking" and my bread baking for beginners is now available as eBook and as "real" book. And for my Baking courses I had to develop recipes, too. In the summer our little kitchen looked sometimes like a small bakery. But I always found enough volunteers for eating all the bread.
But still there were enough nice recipes I published on the blog. And to pick the twelve best was not easy. But as you can see in the picture above I found my personal blog favourite fro 2016.
The Macarons from Pierre Hermé are a discovery made by Eva, and I have to join her enthusiastic praise: the recipe is perfect! I tested the recipe now in small and big batches and even when baking about 300 Macarons at one day it works like a dream!
Healthier then the sweet macarons is the mild Emmerich . With 50% whole emmer flour it has delicious nutty flavour.
Baking a wedding cake  is always an adventure. But with four hands it is a lot of fun and the recipes we found at Juttas Blog are just perfct!
A new Blog-Project has its roots in the recipes I developed for the magazine Ö : Regional Breads. And I made already so many greadt discoveries, like for example the Anisbrezen, which are only baked in Upper Franconia.
Or the Onjeschwedde, a special sweet raisin bread with a high rye content which is only baked in the region of Rydt.
Another specialty I found is a roll from Kiel: Kieler Semmel. It gains it special flavour from a salty cinnamon flavoured butter in which it is rolled. I met this roll before I started the regional bread project but it fits in very well. And as I well in love with this roll I baked it in a second variant, too.
A colleague called my Turmeric loaf "atomic bread" as my sandwich was shining so brightly yellow from my lunch box. The fresh turmeric adds a subtle flavour to the bread which you can never get from the dried spice!
A new family favourite are the aromatic Kifle. A reader sent me a recipe and after I removed the baking powder and to much yeast and adjusted everything else I got the maybe softest crescents I ever baked!
Another regional bread is the ostfriesische Schwarzbrot, which I baked for the "Schwarzmarkt". It is a whole rye bread packed with sun flower seeds – perfect for all seed lovers!
To double bake a loaf is a method to gain an espeically crusty bread with a lot of flavour. The doublebaked farmersbread contains a bit of bread spices, too which makes the loaf especially delicious!
Dor the sweet tooth I baked this summer the buttery Breton cake Kougin Amann. Made with sweet starter the cake is extra delicious as  it combines caramel and buttery flavour with the complexity of slowly risen bread.
And for all bread baking beginners I bake a rye bread without sourdough which makes it perfect as first step into the world of rye doughs.
This was the year 2016 as seen here in the blog. I would like to thank all my readers for your visits, your nice comments and emails. These feedbacks are always so motivating for me! I hope, you will come back next year and if you find the time to drop a comment every now and then I'm even more happy! And so I wish you and your families a great new years eve and a happy year 2017!