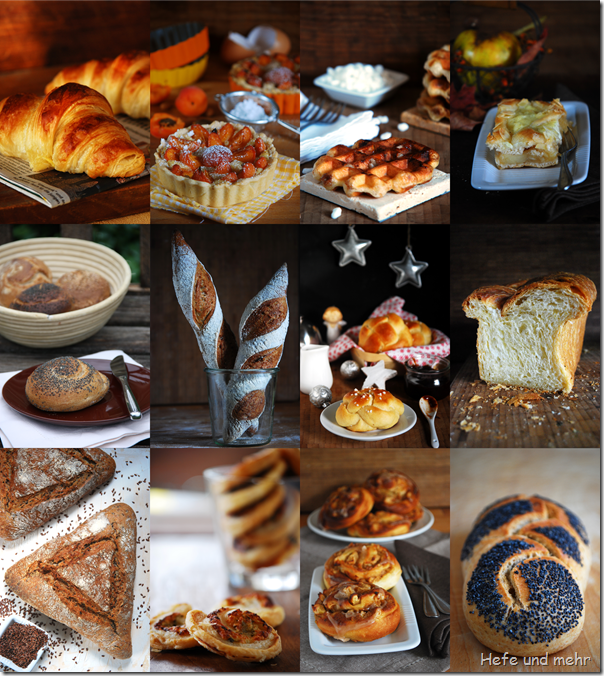 It's already the last day of the year. And what a eventful year it was for me! It seems like yeasterday when I hurried through the lab to finish the last experiments of my Ph.d. thesis. And the time between writing the thesis, handing it in and defending it seeems to fly in one wink. I never worked harder during a year and I'm happy that I still managed to share my kitchen adventures with you.
And for my traditional Best of the year I choose twelve recipes which I liked most this year. It was again a hard choice.
I arranged the pictures as a collage. Starting in the upper left corner are the Yoghurt Butter Crescents, an overnight recipe. They proof overnight at roomtemperature and the next morning I only had to bake them. They turned out to be the best croissants I ever bake.
The Apricot Almond Tarte belongs to the recipe categorie "Why did I wait so long before trying". The sweet almond cream in combination with the tart apricots is divine!
I bake the Cinnamon waffles after a recipe for Paules Schüdi-Zimtwaffeln. When I was not so happy with the first batch, I tweaked the recipe until it was perfect for me.
The Ammerländer Apfelkuchen is an apple cake that combines apple compote, a yeast dough and homemade custard. We seldom had a better one.
The next overnight recipe in this collection is the recipe for spelt rye swirls. They are easy to make, with a complex taste due to the overnight fermentation and I make them already often since the summer.
I was never more pleased with the look of a bread then with the baguettes I bake this time. But they were not only good looking, the taste very good, too.
The round braided rolls on the other hand I had to bake twice until I like the picture I took.
The ever tempting croissant bread was a project in January which I needed to relax during the last stressful day in lab before writing my thesis.
A much healthier but although delicious bread is the flaxseed triangle. The triangle shape is much easier to do then I expected.
This year I laminated quite some dough. The little Cheese and Herb swirls are made with homemade puff pastry after a family recipe from my boyfriends family. They are is favourite snack and I had to bake them twice before I could take a picture because the first batch disappeared in a mysterious way.
Without any laminated dough but nevertheless delicious are the Apple Cinnamon Snails. They are filled with finely chopped apples and a nut cream which keep them perfectly moist.
And then there were the little poppy seed braids. I learned how to braid them while looking a TV reportage over a bakery.
That was my year 2012. It was a good one for me and I hope for you, too. But anyway I wish that the next one will be a little bit calmer, but still a good and successful one.
Dear readers I wish you a happy new year!