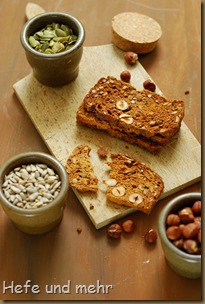 I admired already for some time the gorgeous looking seeded crisps which I saw on different blogs. They sound like a Mixture of biscotti, zwieback and cracker, with a hugh amount of seeds. That was very tempting but every recipe I found used baking powder or soda as rising agent. I don't like the taste of baking powder so much and so I decided to make a recipe of my own, using yeast instead of baking powder. I take my inspirations from different seeded crisps and  zwieback recipes.
With yoghurt and butter make a tender crumb, honey and malt add a subtle sweetness and the nutty taste comes from a mixture of hazelnuts, sun flower seeds, sesame, pumpkinseeds and buckwheat. After baking the loaf has to cool completly, best over night. Then it is sliced and baked for another 30 min. This makes the bread crisp and adds a nice flavour of toasted nuts.
The Seeded Crisps are perfect on their own but although great to go with wine and cheese!