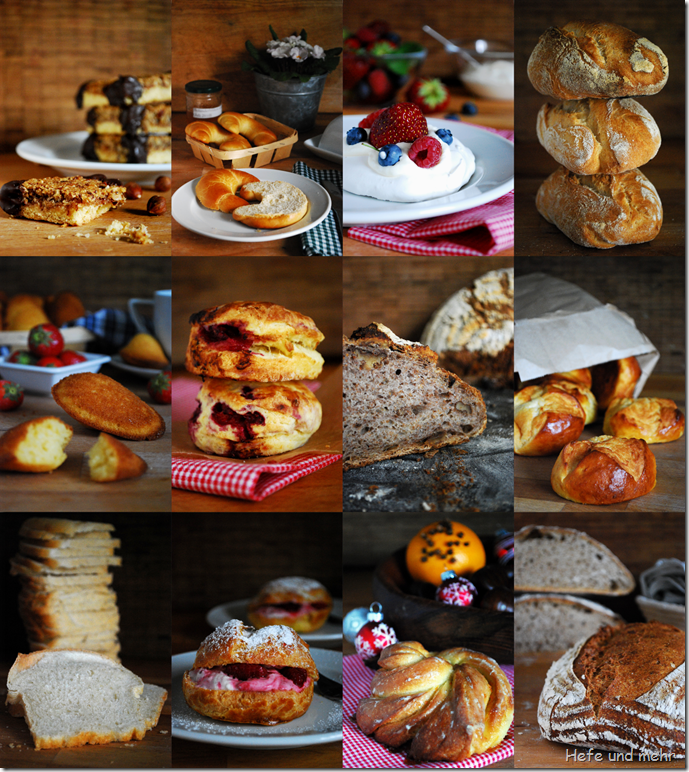 The year 2011 is already nearly gone. I still wonder how fast time flied this year. The last year brought many good things, some sad ones and always a lot of baking. And while I am sitting here and try to remember all the things that happened to me, let me share my favourite recipes of the past 12 month with you.Let us start in the upper left corner of the collage.
I bake the Nut triangles as a snack for a family afternoon. The recipe itself is one that my family use since years but I gave it a little twist when I spread some quince jelly between dough and filling. The Süße Hörnchen sold in my favorite bakery are old friends of me, too. I love them since my childhood and now I created a recipe to bake them by my own. Some Water Roux make them very soft and fluffy.
Paule praised the  Pavlova, a meringue topped with cream and fresh berries, this spring and caused me finally to bake them – something I planed for so long time. And then I asked myself: Why did I wait so long till I bake Pavolovas? I'm already waiting for the first fresh berries so that I can bake it once again!
Krustis came much later this years. I created this recipe when I was once again on the quest for the perfect roll.  Poolish and a long fermenting over night gave this roll a very complex aroma and the form creates a crunchy crust and a soft crumb.
I never tasted Madeleines befor but I bought the Madeleine Pan anyway. And it was a good decision because I am now in love with this cute little cakes which are so versatile and easy to make.
I baked Scones for the first time in my life, too. This variation made with frozen raspberries is delicious and easy to do.
The Potato Bread with walnuts was a classical case of "How to use leftovers". I made the bread with some left over roasted potatoes  after a barbecue with my colleagues at a nice sunny Friday in early autumn.
And because I love sweet rolls so much we should not forget the Soft curd buns. The buns are everything that I love for a quiet breakfast: Soft, slightly sweet and slightly sour. Prefect for Sunday mornings!
One of the best recipes ever is my new favourite super soft  Sandwich bread recipe. After I read all tips and tricks of TxFarmer I created a recipe using  all her advices. The bread needs a lot of time but the work is rewarded with the softest, fluffiest and lightest bread I ever baked.
The filling for the Cream puffs with raspberry cream filling is so simple that you nearly need now recipe for it. But they taste so good, that I have to mention them in the "best of".
The Orange Swirls and the  Light Wheat-Spelt Bread with Sourdough are both adapted from recipe published by Martin (once Pain de Martin, now Lite mer bröd). Both proof overnight, one at room temperature the other one in the fridge. In both cases you get a simply delicious bread at the next morning.
Dear Readers, I whish you a "Guten Rutsch ins neue Jahr" and a happy new year!