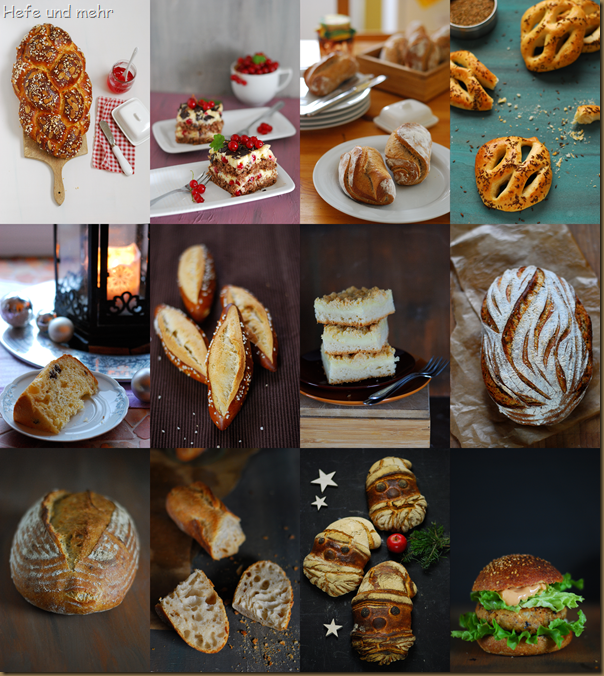 Now we reached the years end. And that year was rather stressful in the lab, but very nice and sucessful when it comes to bread, blog and book. And so I like to look back at everything that was baked and cooked in the past twelve month. And it was really hard to decide which are my twelve favourite recipes. After I picked my most beloved one I ended with 16 recipes. And I had to struggle until I could reduce them to twelve  but choosing only twelve is a rule I made by myself and that I will not break. And here are they, my final blog favourites:
Starting in the upper left corner of the collage: For a long time my favourite braid was the swiss butter braid, but then I baked the Sunday Braid and it immediately took over the title favourite braid. The recipe works well with sweet starter or biga as preferment. And the braid can be proofed over night in the fridge and that makes it so easy to serve a still warm bread for a lazy sunday breakfast!
A delicious sweet treat is the Red Currant and Chocolate Cake. The inspiration for the recipe came from Petra, but then I changed nearly everything due to my preferences and leftovers, so that in the end the cakes share nothing but the idea! But anyhow this is a cake I will bake next year again!
When forming rolls I still love the form of "Krustis" and when I spontaneously bought chestnut flour I used it to bake Chestnut Krustis. The chestnut flour gave crust and crumb an incredible colour and gave the rolls a subtle sweetness.
Another delicious treat were Basler Fastenwähe, which had the "Fasting" only in the name, because the are delicious buttery with some caraway seeds. They were my guest post at Anna-Karinas "Sie bäckt gerne".
A really new recipe and already a family favourite is the Panettone. It is baked solely with my new favourite sourdough, the sweet starter and tastes divinely: Soft crumb which can be torn into long fibres and a complex taste due to the long proofing. A perfect christmas cake.
Another alltime favourite is pretzel in all form. And so I bake these lye rolls already more then once.
The Custard Streuelcake has a blog twin in the Rhubarb Custard Streuselcake, which are both a sweet sin with fluffy dough, silky custard and crisp streusel. It is one of the recipe I will bake next year for sure!
Together with the Oberberger Ärpelbrot I made it into the printmagazin "Brot" (who did not send me my promised voucher copy until now!). The bread is really worth it: the potatoes make the crumb incredible soft and fluffy. The curved way to slash I learned this year from Pips beautiful pictures!
The first bread I baked with my new oven was a light spelt bread. I'm always fascinated how nutty white spelt flour can taste. And the mixture of sourdough and poolish adds such a nice deepness to the flavour as well.
A surprisingly complex flavour had the Baguettes with sweet Starter, too. After 24 hours in the fridge the baguettes had a great crust, open crumb and a complex, mild flavour.
The Wheat and rye bread number two is still a everyday bread and great for "mischief", and so I baked this year these beautiful and delicious Santa Claus Breads using my favourite dough.
For friends of whole grain and burgers are the Three Grain Burger Rolls. They find the perfect balance between hearty grainy and fluffy-soft. And when you make your burgers from scratch, starting with baking rolls, then it is hard to call this still fast food!
That was 2014! I want to thank you, my dear reader, for all your visits, your comments and emails. Your positive feedback is always so motivating for me! I hope you all have a beautiful new years eve and good 2015!
Dear readers I wish you a happy new year!