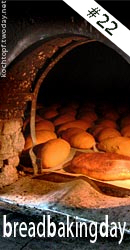 To my great delight Zorra from "1x umrühren bitte" asked me to host this month BreadBakingDay!
Bread Baking Day is a monthly event featuring bread and was created two years and 1 month ago from Zorra. We had a great Pizza-Party last month to celebrate its second birthday. Please visit the mouthwatering round-up on Zorras blog!
I thought long about the theme of this month and at the end I came back to my first thought: Sweet Breads. Although I love a good slice of whole grain bread for lunch or dinner, I prefer sweet bread for breakfast (especially on weekends).
So I would like to meet for a virtual breakfast with you and everyone brings the sweet bread she or he likes. You can bring Challahs, Blatz (a german sweet bread), Croissants, sweet buns … choose whatever you like (as long as it is bread and sweet 😉 ), then bake it and blog about it.
How to participate in BDD #22:
Bake a sweet bread and blog about it.
Please link back to this announcement in your post, and eventually to the roundup.
Fill in the submission form below and your post will be listed in the roundup. The red asterisk marks the requiered fields. You will get a mail when submission is done, but be patient, it needs about 5 to 10 min untill you get the notification.
Your recipe can be written in every language you like but please rember that english is the language that most of us understand, so it would be nice if you include a translation (for example with google translator) in english.
Last day of submission is august 1st, 2009.
There seems to be a problem with the succsefull submission notification email, when your Character encoding is not utf-8 (unicode). The email seems to be blank then (Happend with Googlemail and Yahoo). I installed now an update that should fix the problem. As long as you get an email (blank or not),  I recived your submission, so you don't have to worry about it!
Update: The Roundup is now online!